Treatment of rosacea is available at our clinic in Richmond Hill.
What Is Rosacea?
Rosacea is a chronic condition characterized by facial redness and sometimes, acne-like skin eruption.  Rosacea affects both sexes, however, women are affected almost three times more often than men.  Rosacea is seen in people 30 to 60 years old, but younger individuals can also be affected.
Causes of rosacea
There are several theories trying to explain the cause of rosacea - from bacterial to genetic - however, the exact cause is not yet known. There are some factors which make rosacea to appear or get worse. They include spicy food, alcohol consumption, smoking, sun exposure, hot or cold weather, stress, vitamin B deficiency etc.
Is it harmful?
While a generally benign condition, untreated rosacea may cause skin changes, such as a developing of visible blood vessels on the face,an  acne-like rash, skin scarring and in severe cases, a red and enlarged nose (rhinophyma).
Rosacea can often be misdiagnosed as sunburn or windburn or simply attributed to a "natural" complexion. It is important to begin treatment of rosacea early to avoid possible complications.
Areas affected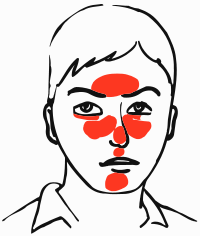 Rosacea most commonly appears symmetrically on the cheeks and the nose bridge, creating a butterfly-like pattern.  Isolated patches on the forehead, chin and nose are also common.
What is the treatment of Rosacea?
There are a number of treatments available.  Topical creams with antibiotics are a mainstay of the treatment. Oral antibiotics can also be used, as studies showed successful treatment of rosacea after eliminating certain excessive intestine flora.
Unfortunately, topical and antibiotic treatment may not help in cases of severe flushing or broken vessels.  Modern technology and science offer highly effective light and laser treatment methods for reducing rosacea redness.
The fractional laser and intense pulsed light technologies are the driving power behind our rosacea treatment procedures. In our clinic we use the state of the art system with laser handpiece and intense pulsed light hand-piece, which both target vascular lesions found in rosacea patients.
Before and After Photos of Rosacea Treatment*,**

before treatment

after treatment

*Individual results may vary.
**Images are courtesy of Palomar Medical
What to expect after treatment?
Immediately following treatment you can expect a mild sunburn-like sensation, possibly accompanied by some minor swelling.  This usually lasts from 2 to 24 hours and can be soothed with cold gel or ice packs.  Generally, you can receive a treatment and go back to work without any recovery time.
Skin tone will typically benefit from less pronounced redness within a week following treatment.
Use of sunblocks is essential for keeping rosacea under control.  At our clinic we carry variety of sunscreens that can be used to achieve best results.
How much will it cost?
The price of rosacea treatment depends on the size of the affected area and the extent of the redness. To receive individual pricing information, please make an appointment with our staff.