Acne scar treatment is available at our clinic in Richmond Hill.
Acne harms us in two ways. First, it makes our skin less than perfect. Then,  it leaves permanent scars as a reminder of our past skin problems.
Scarring is the natural response of our body to persistent inflammation in the skin. Even if you do not pick or squeeze acne pimples they may still result in skin depression.
Unlike other scars, acne scars are depressed and located within the skin, not on the surface. Because of the location of acne scars, it is often difficult to treat them.
Thankfully, modern technology and science give us some highly effective treatment methods. Lasers are leading the way in acne scar treatment and can be very effective in removing scars.
Our laser scar removal offers a noninvasive solution that uses fractional laser technology to deliver rapid, reliable scar removal with less risk, less pain and minimal downtime.
The fractional laser technology is the driving power behind our acne scar removal procedure. Pulses of laser light coagulate scar tissue and trigger healthy new tissue to form in patients' skin.  Healing time is minimal, infection risk is eliminated and little to no pain is felt.
In our clinic we use Palomar StarLux 500 system with Lux1540 fractional non-ablative head. Lux1540 is the only fractional head that received FDA approval for scar treatment.
Versatility of Palomar StarLux 500 system allows us to use both IPL (intense pulsed light) and laser technology for acne scar treatments.
Before and After Photos of Treatment of Acne Scars*,**

before

after

*Individual results may vary.
**Images are courtesy of Palomar Medical
How is the treatment with StarLux 500 Fractional non-ablative head different from other skin resurfacing procedures?
Some skin resurfacing devices, such as CO2 lasers, use the ablative method, which removes the epidermis and some dermis. While good results are eventually seen, the drawbacks include red and raw skin, down time and a risk of infection for several weeks after treatment.
Our device uses non-ablative method, sending light pulses into both the epidermis and dermis, while leaving stratum corneum in place. This allows for quick recovery.
Is this procedure for me?
Laser scar removal with Palomar Lux1540 fractional non-ablative head is appropriate for use on all skin types. It is the preferred method of scar removal for excellent clinical outcomes.
If you are interested in a less painful option to CO2 ablative lase procedures, and if you prefer to resume your daily life without extended recoveries, our gentle procedure may best suit your needs.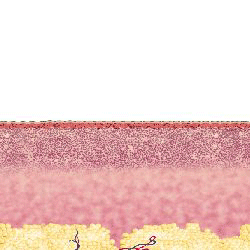 How does it work?
The fractional non-ablative hand-piece delivers light in an array of narrow, focused "microbeams" to create columns of changed skin tissue. These columns start a natural healing process that forms new, healthy tissue. This results in improved skin appearance. Advanced Contact Cooling technology protects the epidermis, promoting safer, more comfortable treatments.
Is this safe?
Lux1540 fractional non-ablative hand-piece is clinically tested and FDA-approved for acne scar treatment. Fractional non-ablative procedure is less invasive and, therefore, has fewer side-effects and complications than similar ablative methods.  Palomar is the company which takes clinical research, effectiveness and safety of their equipment to the highest level.
How many treatments are needed?
A series of treatments at 3-6 week intervals may be required to achieve the desired results. The treatment plan is tailored individually for each patient to achieve the best outcome.
What to expect after the procedure?
You may experience redness, warmth, swelling, or tightness of the treated area, which typically fades within a few hours of treatment. Generally, you can receive a procedure and go back to work without any recovery time. The skin may often have a pinkish tone for 5 to 7 days.
How much will it cost?
The price of acne scar treatment depends on the extent of scarred area treated. To receive individual pricing information, please make an appointment with our staff.